The Nintendo World Championships and Bethesda start things off strong.
E3 may not technically begin until Tuesday, with most people calling Monday "Day 0," but Sunday seemed to start off the celebration of all things gaming for this writer with Nintendo and Bethesda bringing some interesting guns to the start of the show.
Nintendo kicked things off with a 20 minute Smash Bros. presentation that saw 2 new fighters added: Roy from Fire Emblem and Ryu from Street Fighter. There was a leak that took the wind out of those announcements, but it didn't make Ryu's well-executed inclusion any less important for the Smash series. Also included in the announcement were new stages like Sakura Castle from Street Fighter II, a ton of new music, some new Mii Fighter costumes, and more. Overall it was a pretty packed 20 minutes with something you would have expected to be saved for Nintendo's proper Digital Direct coming Tuesday. It kinda makes you wonder what they still have up their sleeve.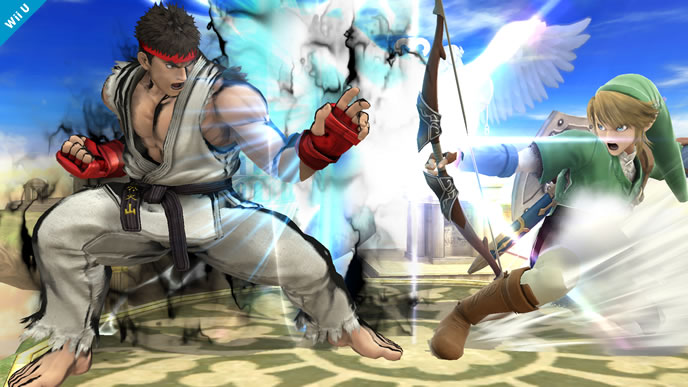 Then came the Nintendo World Championships 2015 event where 16 competitors played through a gauntlet of Nintendo games to be crowned the first Nintendo World Champion since 1990. Overall the event could have used some work, namely on the identifying who was who during the gameplay front, but the World Premiere of Blastball was interesting. In this new game, you're in a futuristic looking mech that shoots around a giant death-ball, trying to get it into the opposing teams goal. It's like Soccer (sorry, football) meets Metroid Prime in some really neat ways. It doesn't look to be the biggest game of the show, but it's always nice seeing something debut like that. But once Super Mario Maker was revealed, all the nitpicks and other surprises went down the drain. This was easily the best way to demo the game: have some of Nintendo's finest create specifically tailored levels and have expert speedrunners try their hand at them. It made for a thrilling show filled with twists, laughs, and a whole lot of childish glee.
Bethesda came out for their first ever show, and overall I don't think it was that great. Before you take the pitchforks to me, let me explain.
Doom was doing absolutely nothing for me. The atmosphere of the game just doesn't strike any sort of a cord that I relate too, the visual design was all around unimpressive, and the action just seemed more exhausting than exhilarating. If it wasn't for Snapback (or as I call it, Super Doomio Maker), a whole new style of modding tool for Doom, I would have passed the whole game off as "Just not for me" and moved on. At least that last bit got me excited.
I'm sorry, but Battlecry just looks awful. The visuals were drab, despite their attempt to inject color into it. The animations were janky as hell. And overall I just got the feeling that this was going to be some Team Fortress 2 meets a MOBA as produced by an independent team of 5 people kind of project, only it was being given it's own studio by Bethesda. It just… Nope. Don't think so.
Elder Scrolls Online is just not working for me on a conceptual level, so nothing there was interesting.
There was an announcement for Elder Scrolls: Legends. This is a new free-to-play trading card game that runs on PC and tablets and boasts a trailer that was almost identical to Blizzard's original Hearthstone trailer. In fact, the whole project sounds like an attempt to cash in on the Hearthstone name, and I don't know about you, but I've only got the funds to dedicate to one money-sucking card game.

Speaking of trying too hard to be Blizzard, Bethesda also announced "Bethesda.net," a new service that will be your go-to source for "all things Bethesda." Sounds exactly like Battle.net, the client that Blizzard uses to house all of it's games. I'm always leery about having another dedicated publisher program on my computer, especially after Ubisoft's ill-conceived uPlay initiative.
So, my saltiness on Doom not withstanding, that was a pretty bad press conference. That was until Fallout 4 happened. If anybody manages to beat that in-depth look at the insane features planned for that game, we'll have one of the best E3's in a long time. Total weapon and armor customization, building your own settlement piece by piece, an insane looking story, second-screen gimmicks. This game has it all, baby. The overall presentation was a bit bloated, but I came away from it feeling that I have a most anticipated game of E3 before the show technically even begins. We'll see what else everybody is bringing, but man. Fallout fucking 4.
What did you think of the opening round of E3 information? Are you excited to see what everyone else has to offer, or did Fallout 4 give you everything you will ever need?