The Squared Circle

To me, the most interesting thing about this stage right now is that we don't know what it's supposed to be from. The giant logo in the middle would suggest that, perhaps, it's just kind of a generic Super Smash Bros. themed stage. Which is possible. It could even be this game's take on Final Destination, with a desire to mix up the usual floating platform and turn it into a spectator's event.
The telltale signs of this stage are the giant logo on the bottom, the gigantic screen in the back, and a crazy laser light show. You can catch some quick glimpses of it in action in the trailers, but nothing too prolonged, unfortunately. It's a wonder if the ropes do anything on the side, like bounce characters or at least provide some sort of wall. It's hard to imagine they do -nothing-. There's no sign of a stage hazard yet, so this really does seem to be a vanilla-flavored stage with a neon-flashing lid. However, there are a few hints that might lead us into what else this stage could be.
First, let me show you the ropes!
When you're done admiring the game's insane attention to detail, look at the coloring of those ropes in the background: Blue, white, white, red. It's a fairly standard coloration, I admit, but it does bear an identical resemblence to these ropes:
What's more… if you look at the part of the initial Smash Bros for Wii U and 3DS trailer, you might catch that the ropes are different!
Red, white, blue white. Another fairly standard look for boxing rings, sure. But that means at -some- point in development, this was the color scheme, and were changed for the level from the cinematic. The importance here is that the ropes now directly correlate with the ropes in Super Punch-Out!!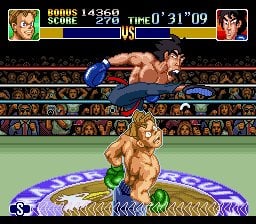 Finally there's the Smash Bros. emblem, which, while not exact, does seem to be gussied up to be fairly similar to the WVBA emblems in Punch-Out!!
At this point I'd be like 99% ready to call this stage a technically unannounced Punch-Out!! stage, but let's think about this from the other angle. Three flaws come to mind. Number one: Why not just use the WVBA or Punch-Out!! logos? And number two: why is it suddenly so flashy? It seems more like a wrestling arena than a typically darkened boxing match. Heck, at first, I thought it might be a King stage. But that brings me to reason three: Masahiro Sakurai is developing Smash Bros., and he's famous for one other series: Kirby. He himself is the creator and voice of King DeDeDe, whose castle famously features…. wait for it…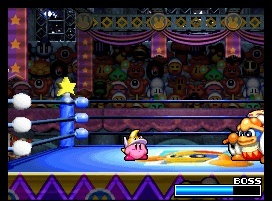 I'm less likely to consider this for a number of reasons, not the least of which is the lack of Kirby characters in the background of the smash trailer and a King DeDeDe face on the mat, but Sakurai himself has been surprisingly restrained in the Kirby love in Smash. But poor DeDeDe didn't even get a stage to himself in the previous Smash, so it's not out of reach that he's just dressing it up a bit for the announcement.
My last theory is my personal favorite. You see, The Ice Climbers were born into Smash Bros. Melee not to represent just the game Ice Climber, but to sort of be the flagship for all of the old school NES titles. Early development of Melee shows Sakurai experimenting with Balloon Fight Guy as well. But after two Ice Climber stages, and the potential of the Climbers not even returning in the next game, where else in the old NES one-off's do you root around for a stage?
How about Pro Wrestling on the NES.
The Famicon Wrestling Alliance needs some love, and this might very well be the stage to do it. Who knows, maybe favorites like Starman and The Amazon might show up and be a stage hazard… or PLAYABLE CHARACTERS! *pause for dramatic effects*
I'm not even remotely anticipating that, but I still like saying stupid stuff now and again.
In the end we don't know much about the stage. It looks neat, might be "tourney legal," and it's a wrestling ring. Hopefully some more updates in the form of screenshots will illuminate the subject a little more for us!
 What think you, dear readers? Have I struck the chord of likelihood? Have I percolated the perception of your mind coffee? Am I just crazy, or am I just crazy enough? Drop off your comments below.
All angles on the arena thus far:
by
by