Monthly Archives: October 2015
Only Happy for So Long…
by Randy Marr
The most recent game in the Animal Crossing comes to us in the form of a spin off titled Happy Home Designer. You play a villager who joins up with the Happy Home Academy in order to help townsfolk build their dream home. Using a new set of furniture organization tools on the bottom screen, and armed with a slowly growing catalog of furniture to choose from, you must fulfill each villager's request in decorating their pad. Or not. It's your game, do what you want.
And there in lies the first problem with Happy Home Designer: the lack of structure. On one hand, it's nice to be given a series of blank canvases to work your interior decorating magic on, but after the 10th, 15th, or 20th time, you'll start to crave some rules. A challenge. A point structure. Anything that can give you purpose to cramming furniture into some chicken's new house.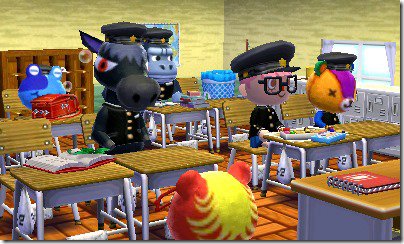 The new way you organize furniture in the houses of your clients is effective, and is hopefully a glimpse into the future of organizing your personal house in future Animal Crossing titles. In fact, this whole game feels like somebody came up with a great new system for organizing furniture, and rather than making a new Animal Crossing game on the WiiU or for whatever the "NX" is going to be, they instead made a game based solely around that function.
That in and of itself wouldn't be terrible. In fact, the idea of freely creating a house now and again is pretty fun for a little while. Given that the game does nothing more than expand upon a couple of elements from Animal Crossing: New Leaf, while completely removing most of them, a full price is hard to swallow. Not only that, but the supplementary Amiibo Cards lead to inflating the price even further.
The Amiibo Cards are ultimately useless in this title. For the most part, every character that's on an Amiibo Card can be found in game, so there's no need to have a card for them once you've found them. Alternatively, the cards do make a great way to hunt down your favorite villagers (*cough*Tangy*cough*) and have direct access to them, but that only diminishes the card's overall value. And at a dollar a card, there's not a lot of room for Nintendo to be bringing down the value. Some special characters, such as K.K. Slider and Saharah, are (as far as I've found) the only characters that can't be found through regular gameplay and must be scanned in with an Amiibo Card.
What feels like a neat R&D experiment appears to have turned into a full fledged game without a lot of actual substance to justify the price. Add on the 100 Amiibo Cards in randomized packs (for just the first wave) and you've got an insane amount of money spent with no real reason to do so. It's a bad value, through and through.
Aesthetically pleasing, mechanically adequate.
by Randy Marr
It starts with a rumor. Then people go missing. Now it's up to Yu Narukami and his friends to take the center stage and solve the mysterious incidents happening just before Rise Kujikawa's big come-back tour. Who is Kanami Mashita? Where are the rest of her dance troupe? Just what is The Midnight Stage?
Persona 4: Dancing All Night seeks to answer these questions through one of the oldest forms of expression: dance. It might sound a little corny, and in the end, maybe it is. But this game brings the heart, the darkness, and the style that fans of the Persona series have come to expect and love. (Hey, if Buffy and her investigation team can do it, so can Yu.)

Dozens of your favorite tracks from Persona 4 and it's various spin-off games have been brought together, many have been remixed, and all have been plugged into a very Dance-Dance Revolution-like formula. Notes scroll from the center of the screen outward towards one of 6 buttons, and you just have to press them in sequence. There's also a little scratch circle that demands you flick the thumb-sticks to build up your Fever Meter for an extra special visual treat during the song. It's not going to go out and impress fans of rhythm games as it's fairly simplistic and straightforward, but it's perfectly serviceable and wholly approachable. This serves to ensure that fans of Persona who have never picked up a rhythm game will be able to get enjoyment out of the title's story without being barricaded by impossible tasks.
The story mode of the game feels like an improved take on Persona 4: Arena's storytelling style, while telling it's own tale. Yes, there are branching paths, and yes, it's mostly told in a visual novel style. But the visuals are crisp, the faces animate cleanly, and there's far less exposition and more fully-animated cutscenes. You'll be done somewhere around 8-10 hours with the story, but it's perfectly laid out. By the climactic sequence of the game, every song selected is exactly the right song it needs to be leading to an all-out rush of a finale.
When Persona 4 originally came out, I thought it was a great title that felt maybe a bit rushed to capitalize on the success of Persona 3. Then I realized the dark charm hidden within it, and was instantly in love. I've since spent 7 years falling head over heals for The Investigation Team over and over. But Persona 5 has finally shown it's head. It's coming next year, so Yu and his crew are finally going to have to pass the torch. Persona 4: Dancing All Night feels like the absolute best way that Atlus could have sent off one of my favorite video game casts.