Peachy Keen
Princess Peach returns to us, as expected, in all her pink-dressed glory. Excluding Samus, who many forget even is a woman, Peach was one of the first femme fatals in the series. And beneath that seemingly vapid facade lies the thirst for blood that years of abduction has carefully honed into a weapon that would Liam Neeson's voice quiver.
There's not a whole lot to say right now about what she looks like she's as gorgeously rendered as you'd expect. She also appears to return with her fondness for crown slapping which is always appreciated!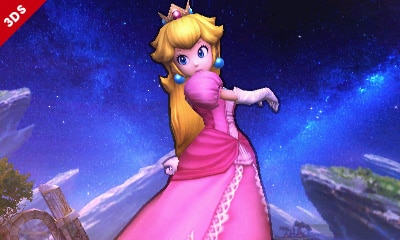 One thing that comes to us that is of interest is Mr. Sakurai's comment that her moves might be refreshed by launch. It's interesting that he brings it up because we have yet to see any sort of game play for her. While it is expected that some things will be different here and there for all fighters, there's no reason to believe that Peach would be terribly different from her past incarnations. The question now is: what does this mean? Are we talking re-balanced specs or are we talking brand new attacks. I certainly would appreciate seeing some new maneuvers out of a lot of our fighters to help make the next games feel fresh. Was this comment targeted at Peach directly? Was he perhaps referring to special attacks, or even Final Smashes being reworked anyone? It's hard to say exactly what that statement means, and honestly I'm probably digging too much.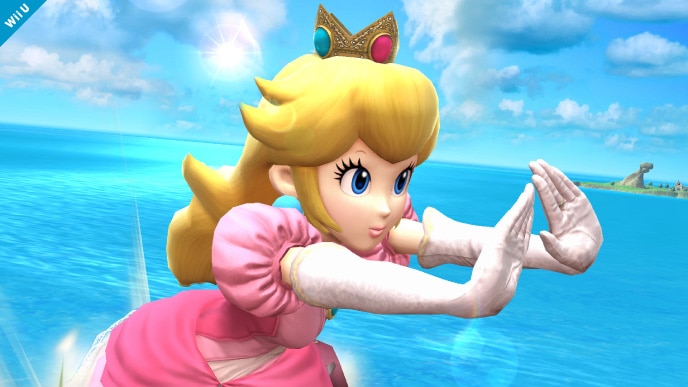 With peach returning, there a few things that I personally would like to see out of our glorious princess. Super Princess Peach was a damn great platformer, and I think it's a shame that nothing from that ended up in Smash Bros. Brawl. Her Final Smash was a rain of peaches and a song that put everybody to sleep. First of all: the lullaby should have been Jigglypuffs, and second of all, why not one of Peach's hilarious temperamental power-ups from Super Princes Peach? Her rage mode in that game set her on fire and made her invincible for a period as she ran around the stage. Alternatively, go with her Gloom power where twin torrents spray from her eyes and use those Havoc Engine physics to force foes off the stage as she runs at them.
Talking about the return of Peach also presents a new shot at one of my favorite topics: alternate costumes! In the past we've seen her color swaps feature the coloration of Daisy. In my personal opinion Daisy is perhaps more deserving of her own character slot, but in my head she's also in sports gear. More to the point, Peach should move past pallet swapping and go for a costume with a little more oomph. My first, and favorite, thought is that we go with her sporty summer outfit from Super Mario Sunshine. Or we could even go a bit more risque and go with Mario and Sonic at the 2012 London Olympic Games.
As if there was any doubt, Peach has returned. Let's see what our fair maiden brings to the table this time around! What do you think? Were you hoping for more of a redesign? Are you intrigued by Sakurai's words? Speak your mind in the comments below!